The Singing
Forced to choose between keeping his family alive or following the orders of Eli Voss, Noah agrees to work for the Mennonite Mob. Struggling to transform himself from a pacifist farmer into a drug smuggler, Noah turns to his cocaine-addicted brother Abel for help. This new double life also forces Noah to do something he's never done before: keep a secret from his wife Anna, who already has her hands full dealing with Justina Epp, the scheming, embittered wife of the recently incarcerated Gerry Epp.
Suspecting he was duped by the new pastor, Bronco ignores the orders of his boss, Chief Anita Kingsley and puts Noah under surveillance. However, he hits a brick wall when he realizes that Mob transactions are conducted in Plattdeitsch — a Low German dialect only spoken only by Mennonites.
Desperate to experience life beyond the colony, Tina sneaks into town with Ben — only to be detained by police for vandalism.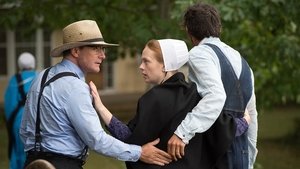 Jan. 15, 2017