Queen for a Day
Jeremy is annoyed that everyone is coming late for class. Ali arrives later still & when questioned about his lateness shows Jeremy his new watch that he bought for two pounds fifty from the market.It seems someone has sold him a 'Dud.'!
Fforbes Ffortescue arrives at the school & tells Miss Courtney that Queen Elizabeth will be making a visit to the school. Miss Courtney tells Jeremy & they decorate the school for the royal visit.
Jeremy's students dress in their national costume & are paraded one by one in the canteen before the Queen's visit.
Miss Courtney would like a class member to present a posy of flowers to Her Majesty when she visits & selects Jamilla to do the honours.
Unfortunately for the school, the Queen's schedule is behind & to make up time they drop the visit to the school from the schedule. However nobody tells Miss Courtney & the others. When a Mrs Baxter arrives downstairs she bears a stunning resemblance to the Queen. Mrs Baxter is looking for her Husband , Si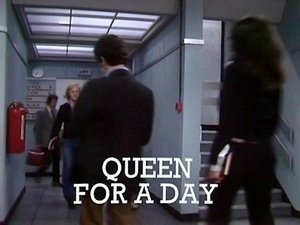 Oct. 14, 1978